Spring 2021 - Updated Covid-19 Restrictions
With the guidelines on controlling coronavirus changing from 12th April, we are pleased to announce that Sheddington will once again be opening its doors for regular Saturday meetings and ad hoc meetings during the week. We do ask all visitors to check in, either using the NHS Covid-19 app or by having your name recorded in our visitor book, and to carefully follow on-site instructions about social distancing, including the wearing of face masks indoors. But whether you come to garden help renovate our workshop, do some making and mending, or simply to chat, it will be great to be able to meet up once again. Details of meetings are circulated on our email list and also via our WhatsApp group, so if you are not already a member of either, do drop us a line using the contact form below and we'll add your details. Most of all, we look forward to welcoming you on site again soon!
About Us
This video about Sheddington was produced by Phil Southby. You can find more details on our About page
Explore our site to see forthcoming events, and read about recent activities in our blog.
Support
As a charity we rely on volunteers and donations to cover our running costs. Your support is very valuable to us. Please visit our fundraising page to find our some of the ways you can support Sheddington.
Where are we?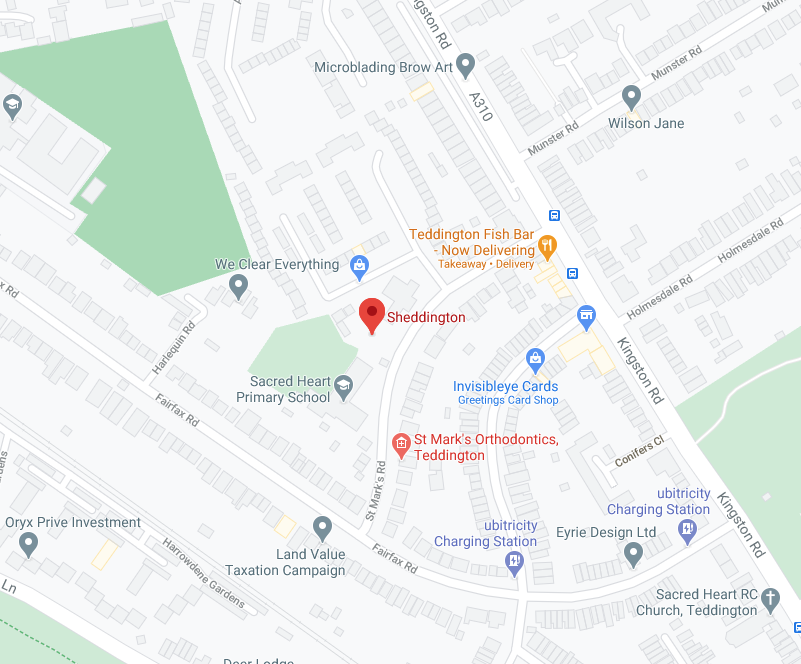 Our workspace is at:
St Mark's Church
17 St Mark's Road
Teddington
TW11 9DE
Click map to open in Google maps.
Support us
Everyone is welcome at Sheddington. Although there is no charge for attending our sessions, as a charity we rely on the generosity of donations to maintain this site and develop our activities for the benefit of the community. If you are able to contribute, we suggest a donation of £2 per session.
You can also show your support by becoming a Supporter of Sheddington for a suggested minimum donation of £25 a year. A leaflet with more information is available here, or you can make a one-off donation by clicking the button below:

Join Sheddington
If you are interested in getting involved with Sheddington, click on the link below to sign in to the Voice community (you'll need to create a login if you have not done so already) and then join our group. We'll be in touch shortly!