Welcome to Sheddington
Sheddington is a making and mending charity based at the St. Mark's Community Hub in Teddington, Middlesex. We have well-equipped workshops for carrying out repairs and for construction projects, a social space containing a fitted kitchen and a delightful community garden. We aim to improve the wellbeing in our local community by providing a place where people can meet and work together, carry out constructive activities and have fun.
Our regular opening times are:
Saturdays 10.30 - 13.00 tea and coffee, quick fixes, gardening
Tuesdays 10.00 - 15.00 making and mending, gardening
Thursdays 10.00 - 15.00 making and mending
If you have an item for repair, just bring it along to one of the above sessions or phone first if you are not sure. We can repair furniture, electrical/electronic equipment, garden items etc. We merely ask for a donation towards the cost of the repair.
You can come along to help in the community garden too, just drop in to one of the sessions.
We have a walking group called Sheddington Shufflers who go off to explore both locally and further afield. Details of this and other activities and events can be found by exploring the website - we aim to keep the calendar up to date!
Support
As a charity we rely on grants, member subscriptions and donations to cover our running costs. Financial processes are handled outside of the website but ad hoc donations can be made via Paypal if you wish - see our fundraising page. If you'd like to become a member of Sheddington we ask that you attend a few sessions first so that you can meet us and we can get to know you. Annual membership is a very modest £60/year.
Where are we?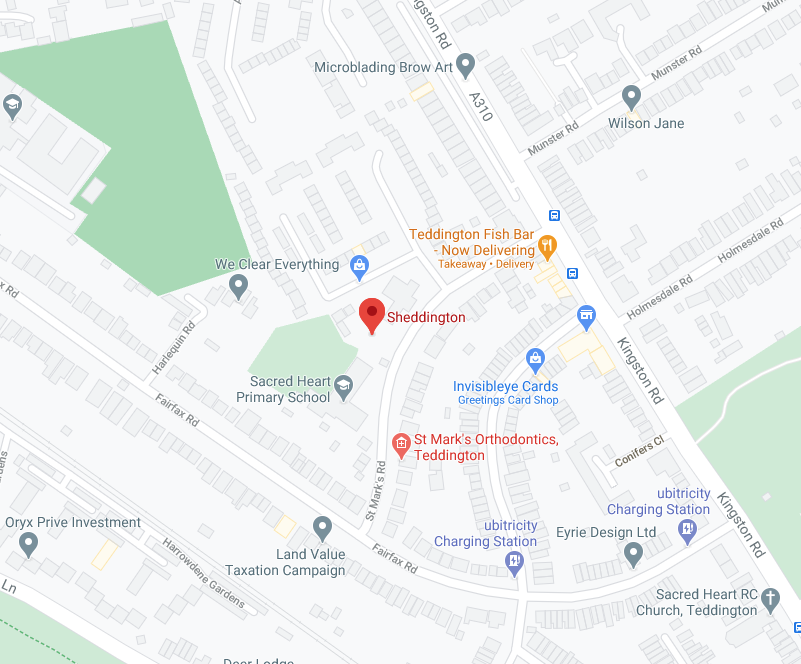 Our workspace is at:
St Mark's Church Hub
St Mark's Road
Teddington
TW11 9DD
Click map to open in Google maps.
One-Off Donations
If you would like to make a one-off donation to Sheddington you can do so by clicking on the button below.

If you would like a receipt, please allow PayPal to pass your details on to us, and tick to allow us to claim Gift Aid on your donation.
Thank you so much for your support.
This button should not be used for membership payments. For membership please see here