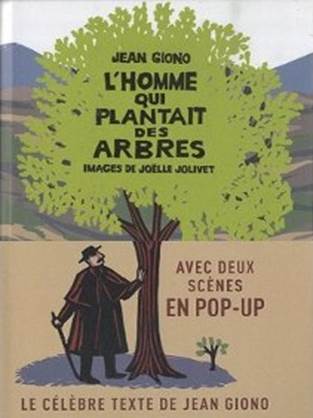 Chris Manning writes:
We don't need the National Institute of Care Excellence (NICE) to pen any guidelines about the necessity to keep breathing if we are to stay alive or clinical studies that outline the positive evidence for the positive effects of eg music, art, fresh air and horticulture on our health and wellbeing.
So, here is a delightful and wistful animation based on the The Man Who Planted Trees (French title: L'homme qui plantait des arbres), a short story published in 1953 by French author Jean Giono. I was feeling somewhat glum when the link and recommendation from a good friend to watch it plopped into my inbox. Her email simply said: "in case you're looking for something to watch today that feeds one's boots with the good/hopeful stuff, and related to the green agenda and the potential power of one man…I share with you this beautiful film that I came across a few years ago..30min long, you may well have seen it, but if not – always worth watching again, and again and again and again…..".
Well – I watched it and she was absolutely right. It is a beautiful and wistful yet powerful story and it really touched me and lifted my spirits. It is not so much what our lives do to us, but what we do with our lives that matters."
20:51, 14 Jun 2020 by Peter Brown

Dear Sheddies,

It's becoming clearer what the impact of the coronavirus pandemic will be and along with many other sheds up and down the country we have reluctantly decided to close our doors for the time being. But that doesn't mean we can't keep in touch and think about what we will do when normal life resumes.

Last night the Sheddington committee held a meeting via Skype, where we could see and chat to each other from the comfort of our own homes, and it gave us the idea that maybe we could do the same for the wider Sheddington community.

So this Saturday (21st March) from 11am - 1pm I'll be hosting a Skype call, and you can join by following this link:
join Virtual Sheddington

Do feel free to join up, even if it's just to say hi. And if anyone has any needs, hopefully we, as a community, can do our best to support one another. If you don't have Skype, or are not sure how to join in, please ask me for more information. I look forward to chatting with you on Saturday.

Peter Brown
Sheddington Secretary
admin@sheddington.org
11:12, 19 Mar 2020 by Peter Brown

by Chris Manning
Here are some of the things that have been going on at Sheddington over the past month:
Wooden Hall:
Painting and repair of the exterior features are nearing completion
Shed/Workspace:
Rear door reinforced and painted, with new lock fitted. We have a kettle and a clock!
Allotment:
Mark and Stephen have repaired the rotavator loaned to us by Paul Leonard to prepare the allotment
The Come and Play shed has been dismantled and the toys stored
We are helping to repair a vandalised on-site shed that will then be moved off-site
Digging over and sorting of debris, rubble and plastics in readiness for disposal
Repairs:
We repaired the hot water drinks machine in the kitchen and a 3kw garden shredder - kindly donated by Councillor Jim Millard - is undergoing repair.
Other News:
During our sessions at St Mark's, quite a few folks have dropped in, and interest in what we are doing is definitely growing.
The Steering Group held a business planning session with Lisa Gangliani to prioritise our plans as we prepare to become a charity limited by guarantee
Meanwhile I have had a meeting with Colin Cooper, CEO of the South West London Environment Network, and discussions with other charities at Kingston Carnival, particularly SHEDx, Transition Town Kingston and various organisations undertaking outside activities such as walking and cycling, as well as bicycle repair and arts and crafts activities.
I have also been forging stronger links with the UK Mens Sheds Association and working with them on various health and wellbeing issues related to social prescribing.
14:31, 08 Sep 2019 by Peter Brown

Archive
Use the calendar or list of months to view entries made on those dates.
| S | M | T | W | T | F | S |
| --- | --- | --- | --- | --- | --- | --- |
| | 1 | 2 | 3 | 4 | 5 | 6 |
| 7 | 8 | 9 | 10 | 11 | 12 | 13 |
| 14 | 15 | 16 | 17 | 18 | 19 | 20 |
| 21 | 22 | 23 | 24 | 25 | 26 | 27 |
| 28 | 29 | 30 | 31 | | | |