Blog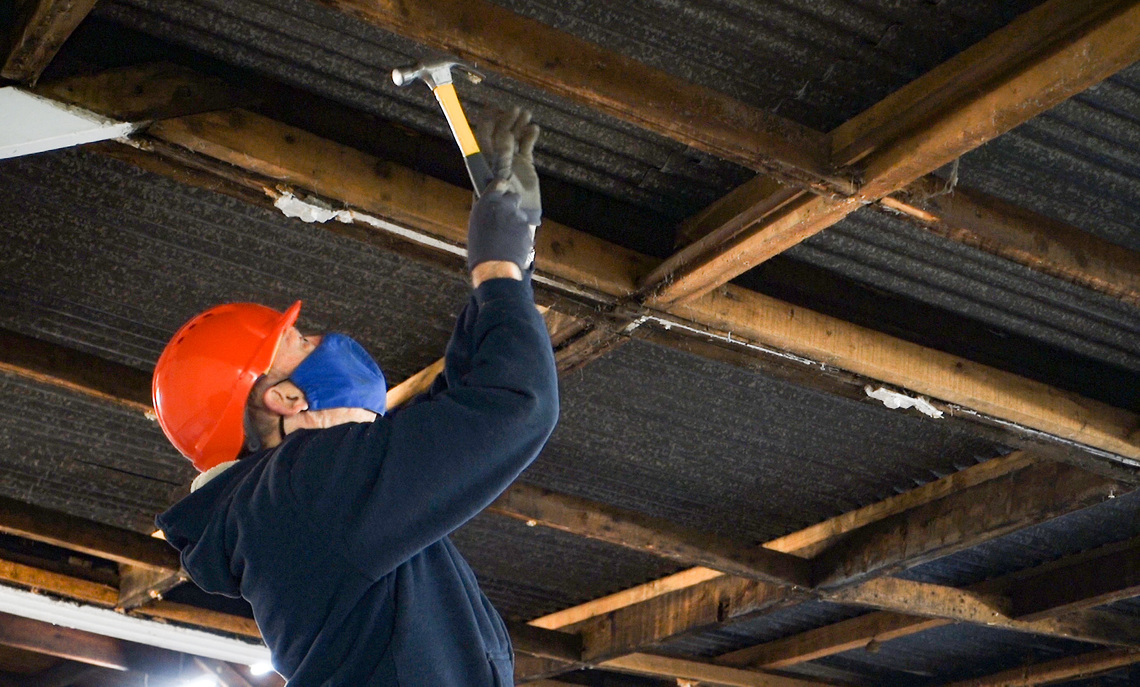 This week Sheddies relished the opportunity to get on with some real DIY. Having taken the lining off the roof, it was time for Jerry to remove some residual nails and inspect the rafters. The timbers have borne up well, but are likely to need some strengthening before we can insulate and reline the roof.
Meanwhile Simon has been removing old gas pipes and electrical fittings, so that later this week work can begin on the stud wall dividing the workshop and social areas. It all means we should have plenty to keep us busy in the coming weeks. Phil is taking photographs to document our progress, so make sure to come back for further updates. Or if you're passing the site, call in to say hello; just be careful, or you might be given a hard hat and a job to do!
17:14, 30 Nov 2021 by Peter Brown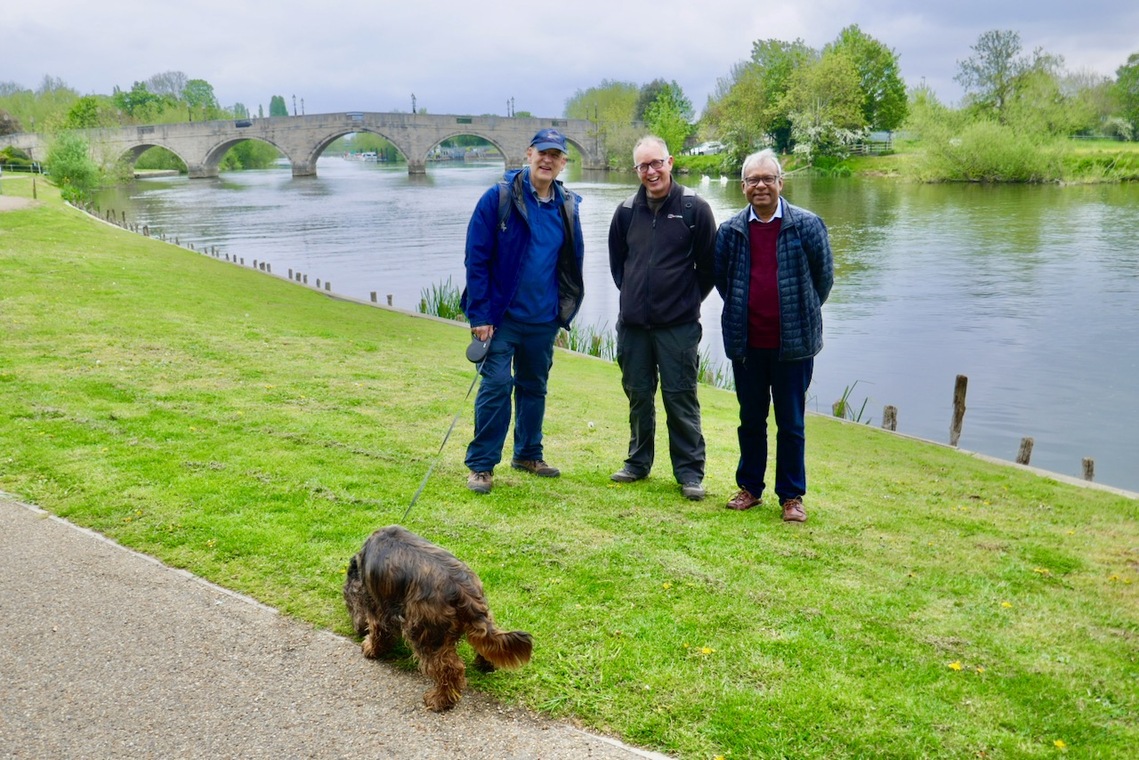 On Friday 14th May the Sheddington Shufflers set off for their inaugural walk. Starting by the Thames at Walton Lane, Mark Ed, Rajiv and Peter followed the Wey Navigation, then cut across Chertsey Meads to rejoin the Thames back to Shepperton. It was a pleasant 5 mile walk with plenty of chance to chat along the way, and a welcome cup of coffee at the end before we took the ferry back to where we'd started.
Lots of you have expressed an interest in joining a walking group, and we are hoping to have a walk each month, some local and some further afield, so hopefully there'll be a chance for everyone to join in. Watch out for details in our regualr emails and on the website calendar here.
15:33, 14 May 2021 by Peter Brown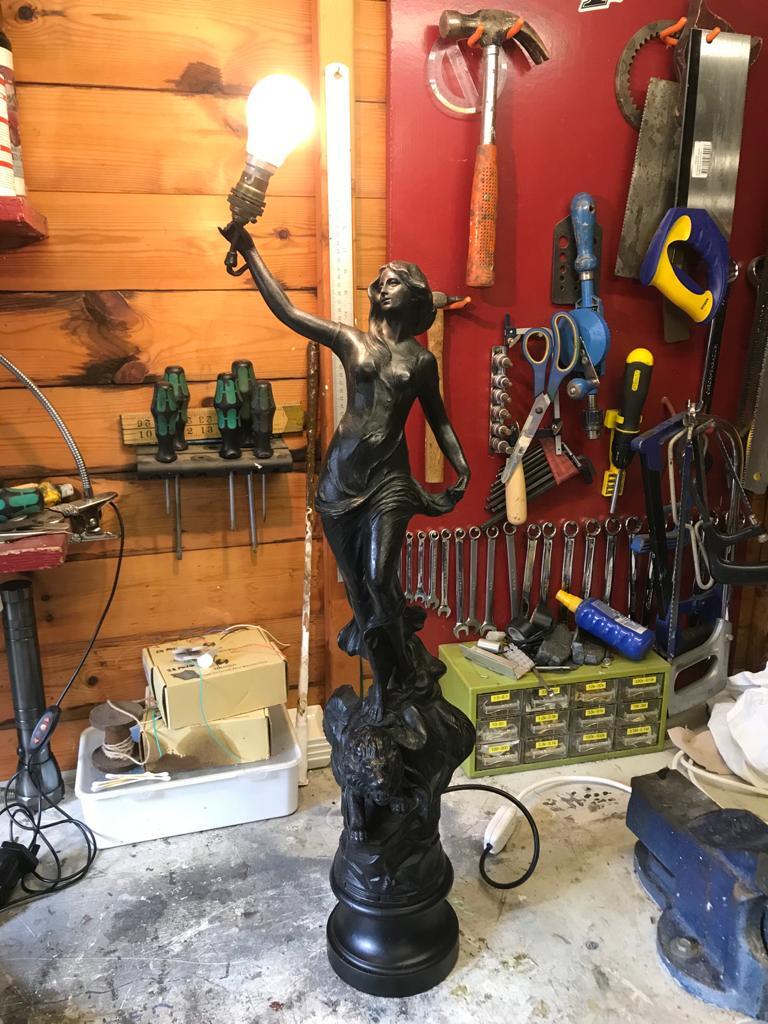 Say hello to "Lady Lamp": a beautiful antique spelter lamp, recently restored by our very own Mark Aston. Property of Teddington local Alisa Long.
Alisa reached out to us in need of some repair work to the lamp, for which Mark was on-hand to work his magic.
As Mark recalls: "The poor statuette, which was hollow and made of metal, was looking a bit sad. She had a broken arm, needed a rewire and the wooden base was cracked".
Operating from his own shed, Mark made quick work of repairing and rewiring the lamp, which took him little more than a couple of afternoons to mend.
Commenting on the repair work, Alisa said: "We are amazed at how inventive Mark was in mending the broken arm. I had only expected him to possibly rewire the lamp".
She added: "The arm had been working up until last summer when the hot weather made it fall down, despite it having been repaired with black insulation tape. I'm so happy it is working again. Thank you Mark for a brilliant piece of work!".
If, like Alisa, you are a Teddington local, and are in need of some repair work done, get in touch. You can reach us anytime on email at admin@sheddington.org. Or via the contact form on our website.
14:09, 28 Mar 2021 by Anton Constantinou
Tags:

Archive
Use the calendar or list of months to view entries made on those dates.
| S | M | T | W | T | F | S |
| --- | --- | --- | --- | --- | --- | --- |
| | | | | | | 1 |
| 2 | 3 | 4 | 5 | 6 | 7 | 8 |
| 9 | 10 | 11 | 12 | 13 | 14 | 15 |
| 16 | 17 | 18 | 19 | 20 | 21 | 22 |
| 23 | 24 | 25 | 26 | 27 | 28 | 29 |
| 30 | 31 | | | | | |