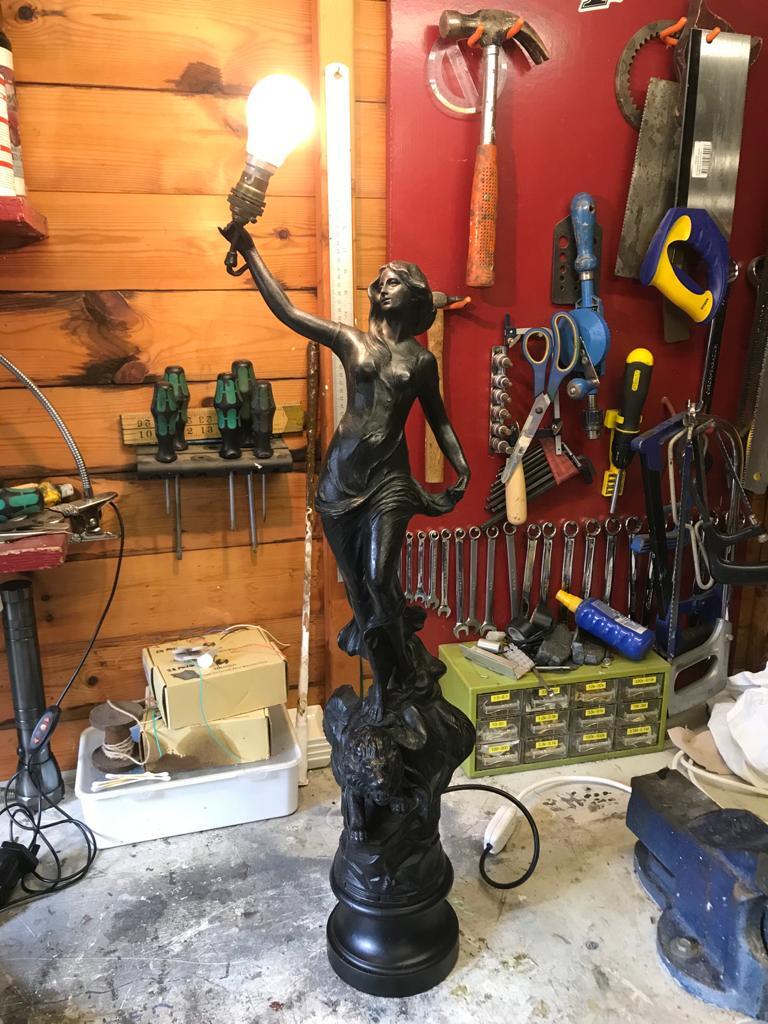 Say hello to "Lady Lamp": a beautiful antique spelter lamp, recently restored by our very own Mark Aston. Property of Teddington local Alisa Long.
Alisa reached out to us in need of some repair work to the lamp, for which Mark was on-hand to work his magic.
As Mark recalls: "The poor statuette, which was hollow and made of metal, was looking a bit sad. She had a broken arm, needed a rewire and the wooden base was cracked".
Operating from his own shed, Mark made quick work of repairing and rewiring the lamp, which took him little more than a couple of afternoons to mend.
Commenting on the repair work, Alisa said: "We are amazed at how inventive Mark was in mending the broken arm. I had only expected him to possibly rewire the lamp".
She added: "The arm had been working up until last summer when the hot weather made it fall down, despite it having been repaired with black insulation tape. I'm so happy it is working again. Thank you Mark for a brilliant piece of work!".
If, like Alisa, you are a Teddington local, and are in need of some repair work done, get in touch. You can reach us anytime on email at admin@sheddington.org. Or via the contact form on our website.
14:09, 28 Mar 2021 by Anton Constantinou
Tags:

Archive
Use the calendar or list of months to view entries made on those dates.
| S | M | T | W | T | F | S |
| --- | --- | --- | --- | --- | --- | --- |
| | | | | | 1 | 2 |
| 3 | 4 | 5 | 6 | 7 | 8 | 9 |
| 10 | 11 | 12 | 13 | 14 | 15 | 16 |
| 17 | 18 | 19 | 20 | 21 | 22 | 23 |
| 24 | 25 | 26 | 27 | 28 | 29 | 30 |
| 31 | | | | | | |